Feature 1: 
1. Strong adhesion,very thick density
2. No harm for nails,
3. Easy to apply and remove
4. Lasting at least 30 days on nails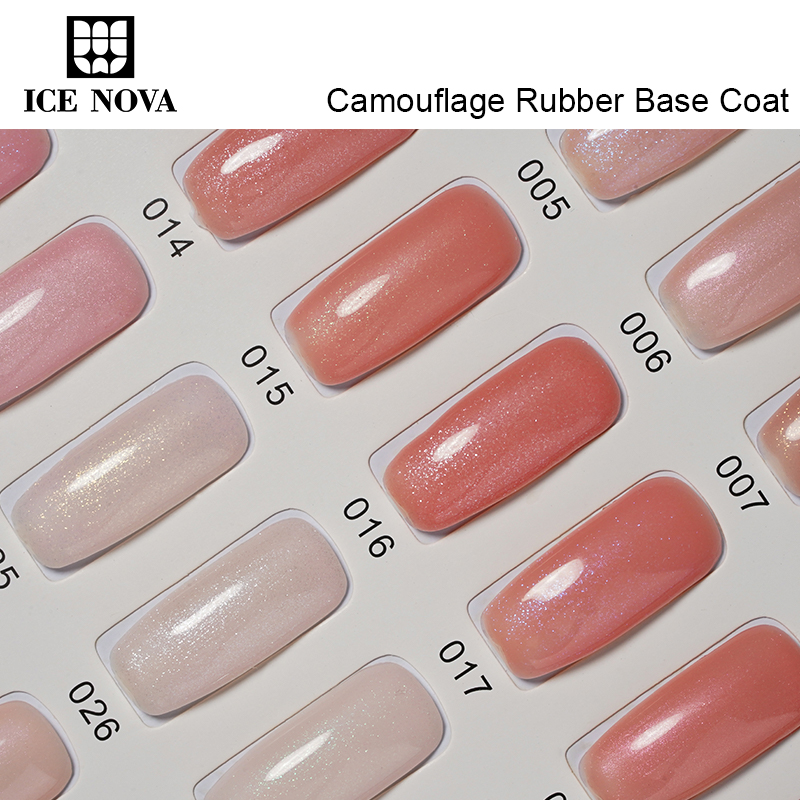 Feature 2: 
1.Type:LED & UV Soak off nail gel polish
2.Curing time: LED – 30 seconds or UV lamp – 2 minutes; 
3.Camouflage rubber base coat with shimmer is used:
*as a basis for color coating.
*as a base gel for modeling artificial nails; 
*for smoothing and strengthening natural nails; 
*can do natural extension
Feature 3:
1.Gel polish base coat and gel polish two in one.
2.Unique and specially designed formula has highly pigmented
3.Available in 104 different nude colors, and clear,milky,white,and black
4."Camouflage rubber base coat with shimmer" can be applied on the nails straight after filing and buffing.  
5.Best choice ICE NOVA for either professional salon beauty shop or home personal use.
Feature 4: 
1.It's an innovative color base with camouflage properties. 
2.It's a unique camouflage base concealer for gel polish that not only aligns the nail plate, but also long-lasts camouflage and lengthens the nail bed under the french coat, masks all the disadvantages of the nail under the color coating.
Feature 5:
1.Being a proprietary development of ICE NOVA, the base has no analogues and demonstrates advanced features for professional use. 
2.The product is manufactured using new technologies on a rubber basis, has a viscous self-leveling consistency and a dispersion layer. 
3.While maintaining elasticity, the base perfectly strengthens and evens out the nail plate. 
4.Suitable for natural and artificial nails. 102 colors dense shades of natural pastel palette allow you to choose the perfect shade for any client. 
Use steps:
1. Shape the nail. Lightly buff the surface of the nail plate.
2. Apply a thin coat of Camouflage rubber base coat with shimmer from the cuticle to the free edge (Remember to seal the edge of the nail). Cure under UV or led lamp.
3. Apply our top coat and Cure under UV or led lamp
Cautions:
1. Keep away from children
2. Keep tight after use
3. Keep away from sunshine and heat
4. Follow directions for use
5. Discontinue use if sensitization occurs
6. It's normal phenomenon if the gel goes thicker in the case of temp.